Roddick Top Seed for Paris Masters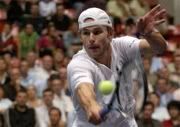 PARIS - With top-ranked Roger Federer and defending champion Marat Safin out with injuries, Andy Roddick will be the top-seeded player at the Paris Masters.
Federer has a torn ligament in his right ankle. Two-time Grand Slam champion Safin has tendinitis in his left knee.
Lleyton Hewitt pulled out Friday with a groin and foot injuries, tournament organizers said. Also missing will be Andre Agassi, former
French Open'
French Open
champion Carlos Moya and Rafael Nadal, who won this year at Roland Garros.
Agassi pulled out for personal reasons, Moya has an injured right shoulder and Nadal has tendinitis.
Guillermo Coria was seeded second, followed by Nikolay Davydenko and Mariano Puerta.
The indoor tournament begins Monday and ends Nov. 6.
#from Yahoo Sport News
***************
Nap says:
Roddick is very lucky since most of the best players would not be playing. Therefore it'll not be that interesting to watch the tennis tournament on TV. And with my favourite Andre Agassi not playing, I don't think I will be watching the matches that much. Though of course, with Roddick being a good player too, I would still be interested to watch him in the finals.