TFC's Pinoy Big Brother
NOTE:
My daughters asked me why I never write anything about PBB as we watched it on The Filipino Channel every night time. I told them that I already mentioned it on my old blog and that I like Say. And since I went back to Blogger, I really got no idea where to post my entry as this site is mostly on Hollywood.

Now, with my husband's consent, I decided to include entries about Philippine entertainment. That is because we also watched Filipino TV programmes on cable.

***********************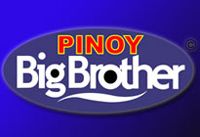 Housemate to Have a 100-Second Reunion Tonight Friday, November 11, 2005 12:54 PM

Big Brother is giving one housemate a special treat! A housemate will reunite with a loved one inside the confession room! And this special moment will be aired live on Pinoy Big Brother tonight!

Just like the past reunions, the lucky housemate is only limited to 100 seconds to be with his/her loved one, whom h/she misses so much. Previously Jason, Uma and Say already experienced the 100-second reunion treat from Big Brother. Say got the chance to be back in the arms of her boyfriend JB, while Jason got very emotional when he saw his daughter during her birthday. Uma, on the other hand, got so overwhelmed after receiving a phone call from his mother, who's living in Israel, just last Friday.

#source:
www.pinoybigbrother.com
************************************
Luchie says:
Late pala ang news write-up nang PBB. But anyway, we already watched it last night. As we know it was Franzen who got the 100 seconds with his birthday celebrator wife. I observed that this guy was very vocal in saying how he missed his family and yet when given the chance to be with his wife, he was not expressive. Then he cried when his wife already left. Ganun ba talaga mga guys, very shy to express in words and actions their feelings? Hayy, naku!!!
Nap says:
But you could see in his eyes his love for the wife.