Brooke's Baby News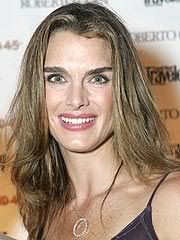 BROOKE'S BABY: Brooke Shields is expecting another child, PEOPLE confirmed. The 40-year-old actress and her husband, writer Chris Henchy, will welcome their second child in the spring, according to her rep.
The couple, who wed in 2001, have a 2-year-old daughter, Rowan (whose birth prompted Shields to write a book, Down Came the Rain: My Journey Through Postpartum Depression in which she revealed how anti-depressants helped with her condition).
Just last month, while appearing on The Oprah Winfrey Show Shields revealed that she hoped for another baby. "I've always wanted more than one child," she said.
*from www.people.aol.com
**************
Luchie says:
I was able to watch that Oprah Winfrey Show episode when Brooke Shields was interviewed by Oprah Winfrey. She was confident enough to defend her views on taking the anti- depressant drug. She defended not only herself but all the other women who were able to cope up from their condition. And for that she gained the respect of many.
I wish her good health and happiness with the coming baby!