Eddie Guerrero of WWE
Nap says:
Watching The World Wrestling Entertainment or WWE on TV is enjoyable. Though we know that the players are just doing tricks and of course the actions are just plain gimmicks, still you got entertained by their antics. But watching them live is of course more entertaining.
One of our favourites in Wrestling is Eddie Guerrero. But then when I visited WWE website, I read about his passing away. Like the rest who are entertained by him, my family is also saddened by his death.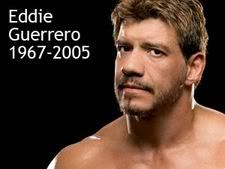 *courtesy of www.wwe.com